Friday, February 11, 2011
11:50 AM |
Posted by Kaplan Center for Health and Wellness
Your Palm, Your Sole, Your Love
by Dr. Nina La, D.C., L.Ac.
Adjunct Professor, Kaplan University School of Health Sciences
Allied medical staff, Tri-City Regional Medical Center
I ran into one of my colleagues at a seminar last weekend, and we got to talking about reflexology. In honor of the upcoming Valentine's Day, I will briefly go over reflexology here. Who knows, you may find it extremely helpful and use it on your loved one during this season in honor of love? =)
Reflexology, or zone therapy, is similar in acupressure in that pressure is applied, usually in the form of your thumb, into specific areas of the hands and feet. Reflexologists do not apply lotion, and the purpose for doing pressure points in the hands and feet is based on the theory of microacupuncture, where certain points in the hands and feet represent organic areas on the body. This theory is said to have originated from China some 5000 years ago, but has now been popularized in over 4 major continents, including but is not limited to Asia, Europe, North America and Africa.
This is an example of a reflexology foot chart.
To destress for yourself and your loved one on this special day, here is a self-help reflexology tip from Kunz, B. & K. (2006). Hand Reflexology. Dorling Kindersley Publication: p.124-5.
According to a Singapore research, pressing on the "adrenal gland" of the hand stimulates areas of the brain to promote relaxation. The "adrenal gland" is located mid-way between the first and second metacarpal bones (thumb and index fingers). If you've hit a sensitive spot, then you've found the right point!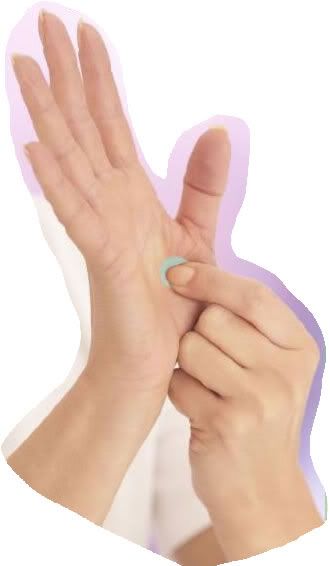 For overall stress reduction, it is recommended that you roll a tennis ball between two palms in multi-directions to stimulate the "adrenal gland."
So go ahead and pamper yourself and/or your loved one for this coming Valentine's. Let's have a stress-free and fun-filled Valentine's Day ahead! =)
--------------------
"Last night I lay in bed looking up at the stars in the sky and I thought to myself, where the heck is the ceiling." - Unknown
--------------------
Dr. Nina La is an allied medical staff specialized in acupuncture at Tri-City Regional Medical Center (Hospital). She is also a chiropractic physician, herbalist, and an adjunct professor at Kaplan University. You can contact her at NLa@kaplan.edu, or visit her website at http://drninala.com.
Blog Archive